Gypsy Goddess arm piece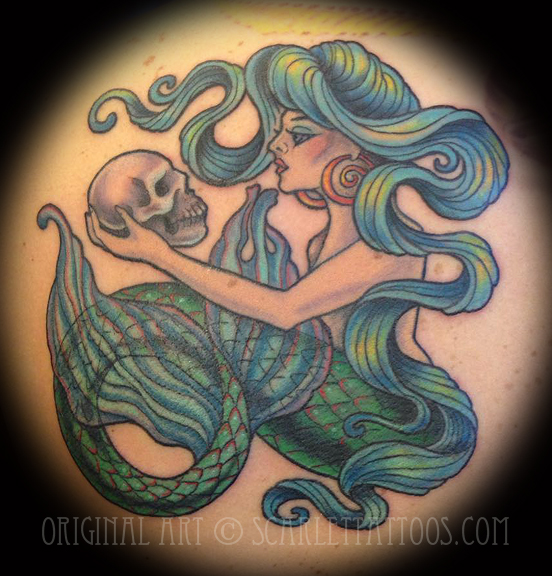 Mermaid and skull tattoo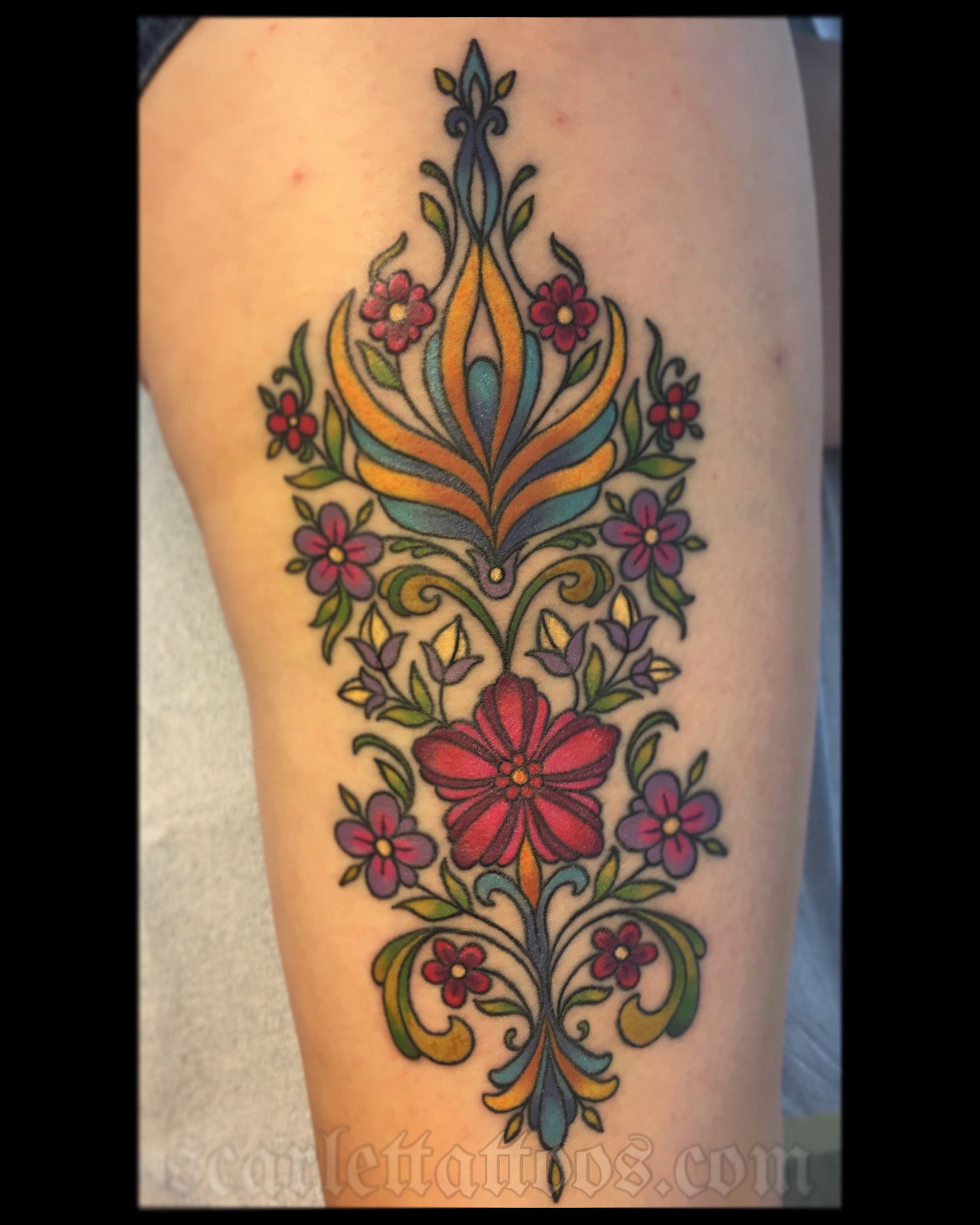 Swedish Kurbitz folk art tattoo
California Love tattoo with palm tree and wave
Painted Indian Elephant Tattoo
Victorian Ornamental Owl
Newcomb Pottery tattoo with dragonflies, daffodils and berries
Feminist Venus tattoo
Alfonse Mucha Art Nouveau Tattoo
Tarantula Hawk tattoo
Seahorse Tattoo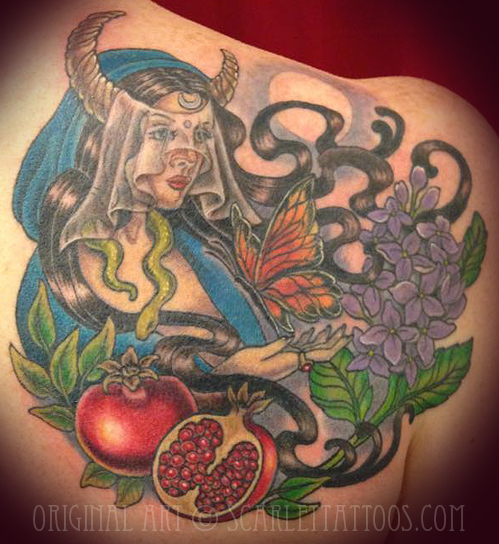 High Priestess pagan tattoo
Athena's Owl Tattoo
Ornamental Elephant Backpiece tattoo
Santa Barbara marine life tribute tattoo
Lady of Guadelupe Dragon Slayer tattoo
Mahalo Shrunken Head Tiki Tattoo
Victorian locket cherry blossom feather and sugar skull tattoo
Moon Goddess tattoo
Four Seasons Tattoo
Harry Potter calligraphy quote tattoo
Eve in the Garden of Eden tattoo
Guardian Avenging Angel Tattoo
Viking Tattoo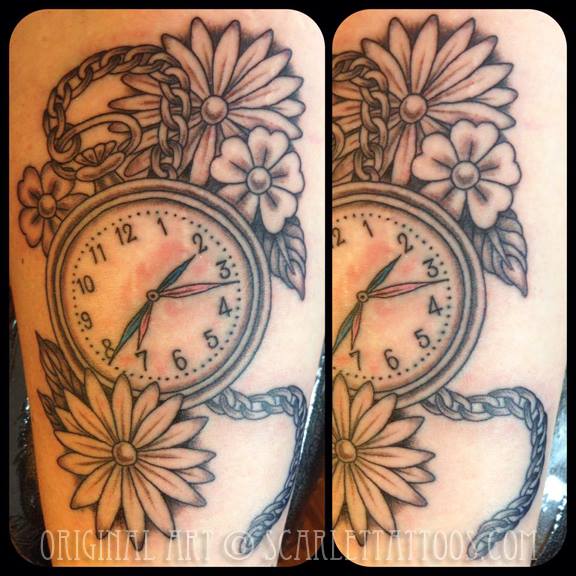 Victorian Pocket Watch tattoo
Bacchus Statue Tattoo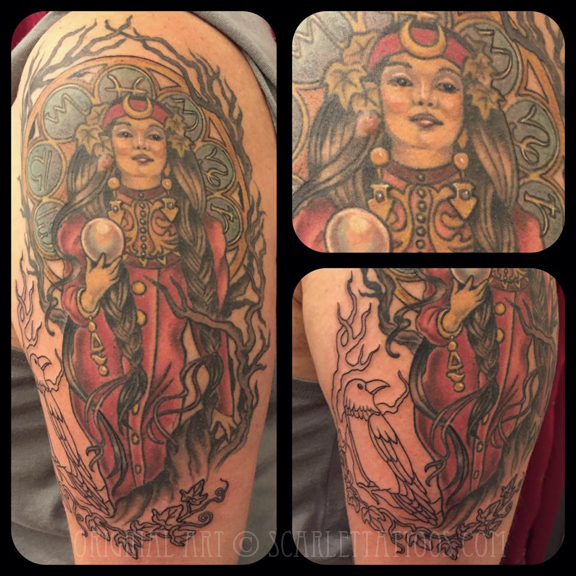 Mucha Morgan le Fay tattoo, in progress
Pirate girl pinup tattoo
Mystical Witchy Moon, Rose, Crystal & Feather tattoo
Artemis' Arrows
Japanese Baku tattoo
Aztec Warrior tattoo
Classic Mermaid Tattoo
Siberian Tiger portrait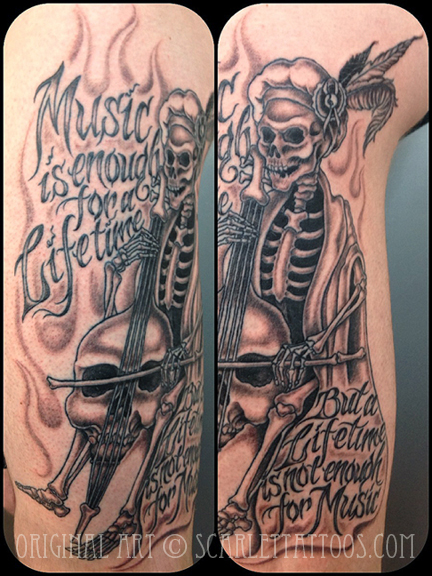 Skeleton playing cello with Rachmaninov quote
Day of the Dead girl
Henna Crane Origami tattoo
Ornamental Owl in Moon tattoo
Alice in Wonderland
Snake Charmer tattoo
Pirates of the Caribbean tattoo
Elvgren inspired burlesque faerie pinup.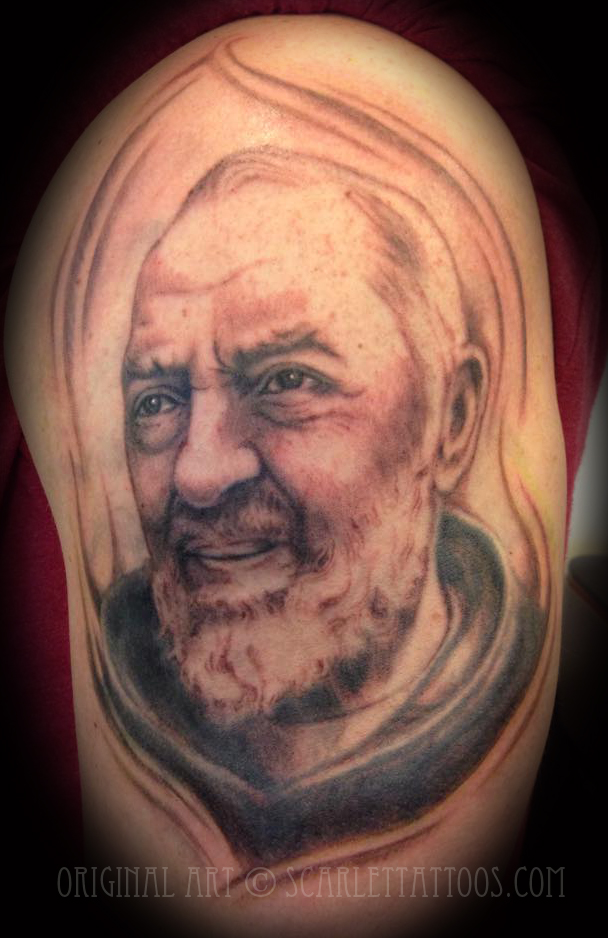 Padre Pio portrait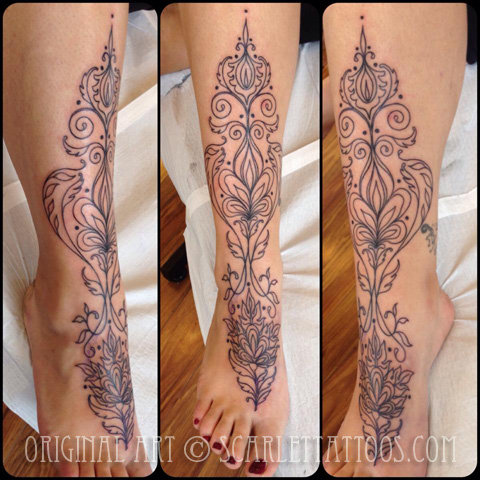 Henna inspired foot tattoo
Ornamental lion tattoo
Day of the Dead girl with chihuahua tattoo
Vintage Gift Basket Memorial Tattoo
Hummingbird, flower and cilantro tattoo

Beta fish, praying mantis, evil eye and cherry blossoms tattoo.
Tree of Life Yin-Yang Ravens
Peony flower tattoo
Garden sleeve, in progress
Victorian Skeleton Key
Sugarskull Memorial Tattoo
Banner with lettering and Cherry Blossoms with Victorian frame (added around existing Hedwig tattoo)
Rose and feather tattoo
Brigid's Cross Faerie
Tattooed Ziegfeld Girl
Siamese Burlesque Mermaids
Full Moon, Sword & Ocean
Hula Girl Pinup
Steampunk butterfly
Tribute to The Arts
Owl with skull & ornamental snake
Simple feather
Day of the Dead Indian Chief
African mother with water jug
Inner bicep tattoos on Nikki Le Villain, burlesque performer.
Sugar Skull Butterfly
Chef's Boston Pride
Day of the Dead Cameo
Sailor Pinup Girl
Native American prayer
Art Nouveau flowers
Burlesque Mermaid
Inspired by Annabel Lee (Edgar Allan Poe)
Skeleton key with banner
Gibson Girl
Elvgren Pinup
Pirate Queen tattoo on LaMaia, burlesque performer
Art Nouveau Goddess
Ukrainian Heritage Tribute
Octopus (Koi not by me)
La Sirena
Victorian Lady Sugar Skull
Cowgirl Pinup
Mayan God
Christmas Acid Trip half sleeve
Day of the Dead Jazz Band
Memorial Anchor
Mermaid tattoo on Gigi LaFemme, burlesque performer.
Roman Emperor
Psychedelic Goddess
Haunted Mansion sleeve, in progress
Cherry Blossoms
Bonsai tree
Ornate Lock & Keys
Newborn footprint
Czech Folkart Teapot tattoo
Lotus, Butterfly and Cherry Blossoms Tattoo
Simple Feather tattoo
Hula Pinup Girl tattoo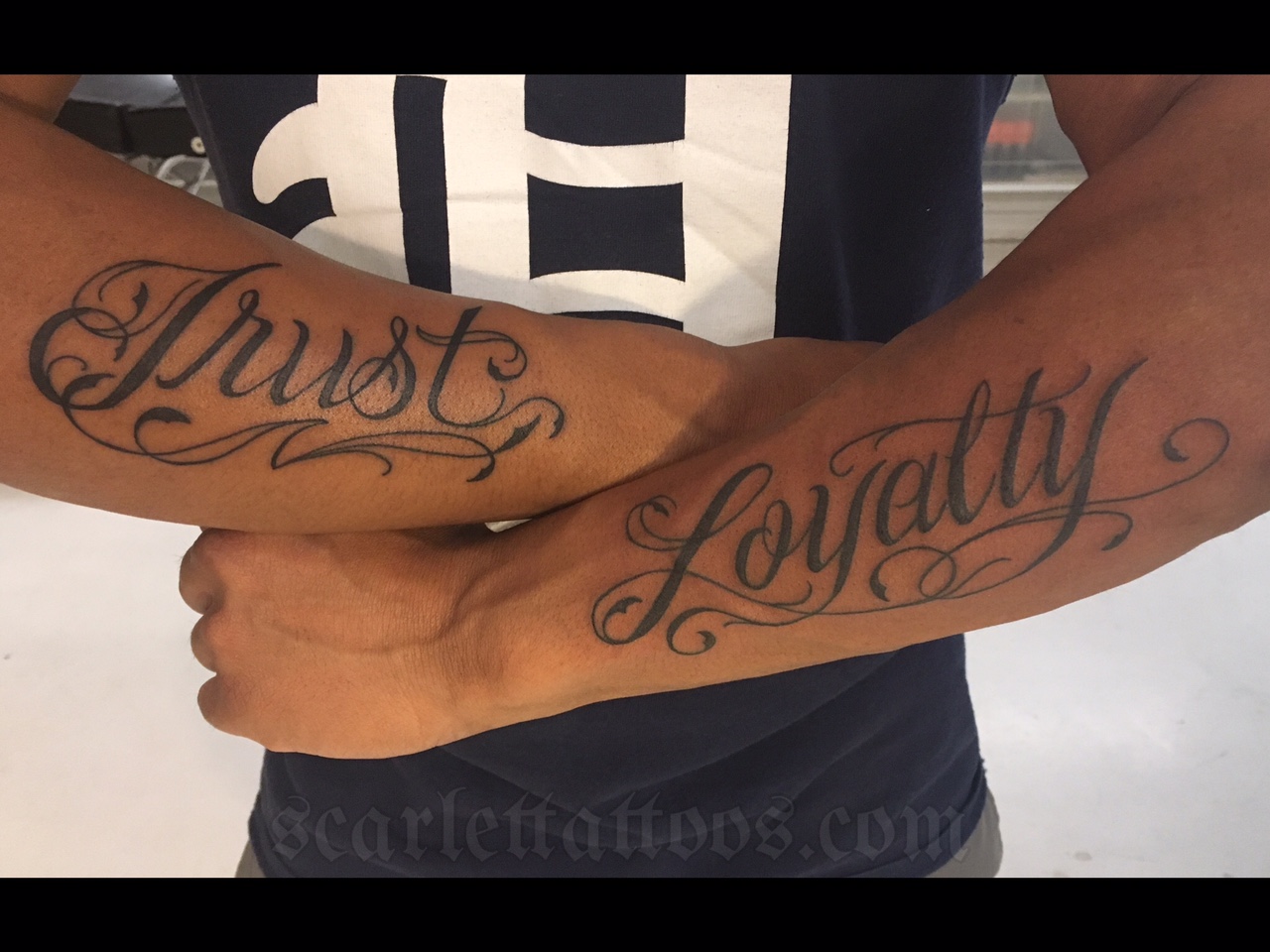 Fancy script tattoo